---
Why

Everyone Should Wear a Mask!
---
The Safe Store Initiative
Click image below for printable PDF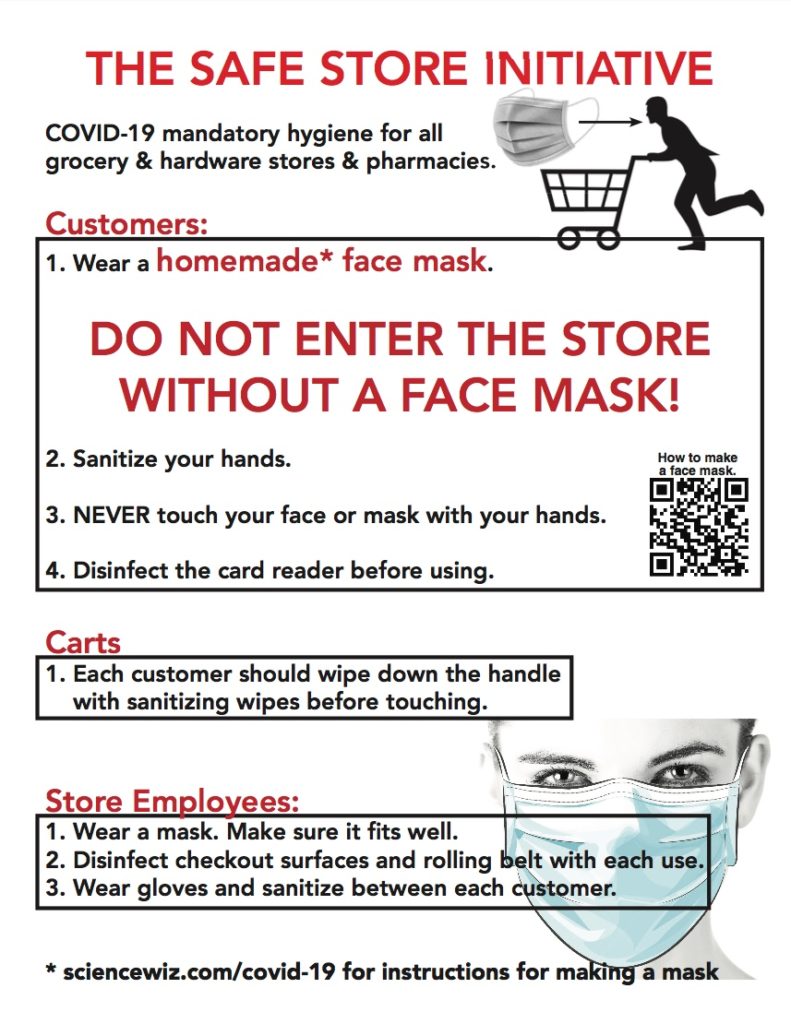 ---
---
Latest COVID-19 Face Mask News
100 Million Masks Challenge
In October of 1918, with a lethal influenza spreading in San Diego, the health board asked the City Council to pass a law requiring people to wear face masks in public. San Francisco had just adopted …

The CDC cautions that those who were previously infected should still socially distance and wear masks after they have recovered.

In the 1980s, when another Sununu was governor, he was occasionally referred to, sometimes good-naturedly and sometimes not – as "King John." …

The U.S. just sailed past the 5 million mark for confirmed cases of COVID-19. Can anything be done to prevent the next 5 million?

Fiber from a relative of the banana tree could replace plastic in millions of face masks and hospital gowns … Global production is projected to be worth $100 million this year, Gurnani said.

Advisors detailed to Trump the spike in COVID-19 cases were of voters in … We've distributed 100 million N95 masks, 35 million surgical masks, 15 million face shields, and thousands of …
Face Masks in the Pandemic
People who recover from the virus have a three-month window of safety, C.D.C. guidance shows. The U.S. Postal Service warned several states that it may not be able to meet deadlines for delivering …

During the summer of coronavirus UPS drivers are working 12 hour shifts delivering a record number of packages in record heat, all while wearing masks.

This time it wasn't a president, a senator or even a governor whose opposition to wearing masks drew national media attention and the dismay of public health officials, who say face coverings are …

Can face masks help slow the spread of the So why weren't face masks recommended at the start of the pandemic? At that time, experts didn't know the extent to which people with COVID-19 could spread …

Centers for Disease Control and Prevention has suggested that any covering, including a bandana, is better than none …

"Masks with one-way valves or vents allow air to be exhaled through a hole in the material, which can result in expelled respiratory droplets that can reach others," the CDC says.
Making Homemade Masks
Asad Air Base, Iraq, faced a shortage of face masks at the start of the coronavirus pandemic, a group of military wives stepped up to supply thousands of masks made with a personal …

Controversy and misinformation aside, it is clear at this point that face masks are a vital step toward reducing the community spread of COVID-19, the respiratory disease caused by the novel …

The limited findings raise doubts about the effectiveness of neck gaiters and bandanas in preventing the spread of the coronavirus.

A recent study out of Duke University suggests that not all face coverings are equally effective at preventing the spread of Covid-19.

The researchers found that many of the masks worked well while some were useless or increased the number of respiratory droplets that were transmitted.

Not all masks are created equal. Researchers at Duke University have tested 14 types of mask and other facial coverings and found that some are wanting when it comes to coronavirus protection, while …
---
Washington Post Article by Jeremy Howard

Washington Post, March 28, 2020. When historians tally up the many missteps policymakers have made in response to the coronavirus pandemic, the senseless and unscientific push for the general public to avoid wearing masks should be near the top.
Jeremy Howard – Why we need #Masks4All, and how to make your own mask
---
The Hong Kong Mask
This is for social hygiene – its purpose is to protect others from you. No sewing. Everyday components. Very simple. Includes multiple layer mask and a face shield. Dispose of the mask immediately after use and scrub your hands.
---
The Super Simple Diaper Mask!
This is for social hygiene – its purpose is to protect others from you. It may give you some protection from others. No sewing! Takes one diaper and a pair of scissors. Cut out a square in the center of the diaper, leaving elastic on either side. Use the cutout square to make a double layer in front. You can effectively seal this mask around your nose with a pair of goggles. Includes two non-woven layers of polypropylene and two moisture absorbing tortuous paths. Easy, simple and fast. This very simple mask meets many of the requirements of a good surgical mask – as described in the "What is a Good Quality Surgical Mask?" video at the bottom of this page. Dispose of the mask immediately after use and scrub your hands.
---
A Doctor Explains How to Make the Safest Face Mask

(HEPA Vacuum Bag)
If N95 or better masks are not available, Dr. Southworth recommends this mask as an alternative for healthcare workers. The fit appears to be very good, because he could not smell household fumes, such as bacon cooking while wearing the mask. Given the materials, this mask is potentially reusable. The integrity of this mask should be verified with the standard fit test with each use. UV germicidal light could be used to keep it clean between patients.
---
Face Mask with a Filter Pocket
This is a sewn version of a simple surgical mask. Hospitals are providing these to patients in the waiting area, and for them to take home for their personal use. The nose wire helps to achieve an improved fit. The replaceable filter layer(s) can be made from unwoven fabrics such as 100% rayon, cellulose, or polypropylene as found in fabric liners and diapers. The cloth portion of the mask is washable, but for safety it should be sterilized immediately after use by soaking in hydrogen peroxide. Remove the mask by only touching the elastic portions and wash your hands thoroughly afterwards.
---
Nurse Preferred Mask
Which mask should I make for the hospitals? The nurse below talks about the designs for two types of surgical masks. She prefers ties over elastic because of the discomfort of wearing elastic. She prefers at least four layers in the mask. She does not want an insertable filter because when she is working it is beyond what she wants to deal with. Each hospital has different requirements – please check before creating them.
---
DIY Near N-95 Masks
This mask should not only help protect others from you, but may also help protect you from others. It requires no sewing, and attempts to replicate the layering used in N95 masks by using a MERV13 filter. You should verify its fit and filtering capability with a sniff test for household odors as described by Dr. Southworth in the above vacuum bag mask video. This mask cannot be washed but you can sterilize the surfaces with UV light. Remove the mask by only touching the elastic portions and wash your hands thoroughly afterwards.
---
This mask should not only help protect others from you, but may also help protect you from others. This is a simple sewn mask. It includes a wired nose piece. The DIY video explains the use of layering of unwoven fabrics to create a tortuous path which acts as a barrier to viruses and small particles. This mask is washable. Immediately sterilize in hydrogen peroxide or UV light after each use. Remove the mask by only touching the elastic portions and wash your hands thoroughly afterwards.
---
The Olson Mask (for Healthcare Workers)
This is the Olson mask that some hospitals are asking people to make in the event that alternatives are needed. Their innovative use of double sided tape got this mask to pass the hospital fit test.
---
The MERV Filter Mask
This is one the early DIY masks that requires no sewing. It uses a MERV13 air filter material.
---
The Bra Mask
This is a multilayered mask. It gives you a pre-shaped form and elastic straps using bras that many women will have in their dresser drawer. To the extent is it well sealed on the sides, this mask will help protect others from you and may protect you from others.
---
The Anti Viral Masks
Antiviral materials are coming. The two stories below refer to research and innovations that will allow any mask, homemade or otherwise, to be made of antiviral materials. Treated fabrics will destroy viruses on contacts.
---
The Salt Mask
---
The Nano Textile Sonovia Innovation – a New Long Term Sterile Mask
---
How to Put On and Take Off a Face Mask Safely
When you remove a mask, you must treat it as if it were contaminated.
---
What is a Good Quality Surgical Mask?
---
How to Sterilize Your Mask
Doctors scramble for best practices on reusing medical masks during shortage
Can masks safely be reused and disinfected?
How to reuse and dispose your masks safely
Face masks can be used repeatedly after disinfection: doctors
7 Coronavirus cleaning questions, answered by an expert
UV LIGHT REFERENCE 1 | REFERENCE 2
OR THROW IT OUT!!!