---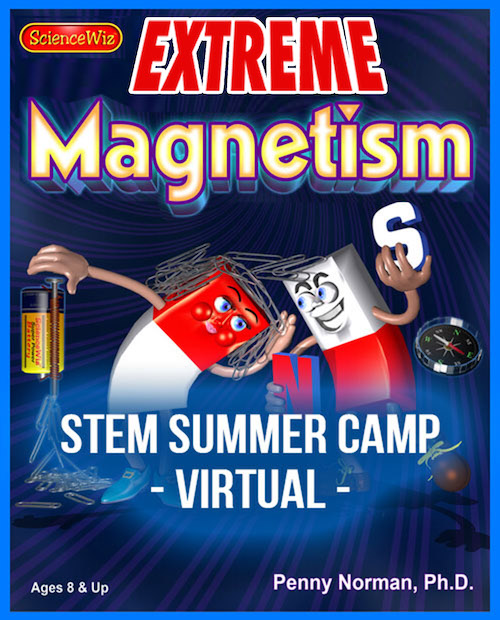 A Virtual STEM Camp that Explores MAGNETISM
Key materials for HANDS-ON projects provided
Extreme Magnetism is taught daily in a one week camp.
Duration: Each day includes a 70 minute interactive live Zoom session.
For the shortened week before and after the July 4th holiday, there are 4 Zoom sessions, each is 90 minutes long.
Extended activities: At least 1 additional hour each day.
A Zoom link to the first Camp day is provided both on this page and via email with purchase.

Attendees will also be sent a companion book and kit uniquely configured for this camp.
Age: 3rd – 7th Grade
Price: $150.00
Upcoming Dates:
| Date | Start/End Time (PST) | Magnetism | |
| --- | --- | --- | --- |
| Jun 21, 2021 | 1:00 pm – 2:10 pm | 5 days – Mag! | SOLD OUT |
| Jul 6, 2021 | 1:00 pm – 2:30 pm | 4 days – Mag! | SOLD OUT |
| Jul 19, 2021 | 1:00 pm – 2:10 pm | 5 days – Mag! | CANCELLED |
| Aug 2, 2021 | 10:00 pm – 11:10 pm | 5 days – Mag! | SOLD OUT |
| Aug 16, 2021 | 10:00 pm – 11:10 pm | 5 days – Mag! | SOLD OUT |
---
WHAT YOU WILL DO
Explore EXTREME topics of Magnetism. The camp begins with the basics but quickly moves on to the strange and surprising effects of Eddy currents and the building of high-speed magnetic racers. View the video below — seeing is believing? How is this possible?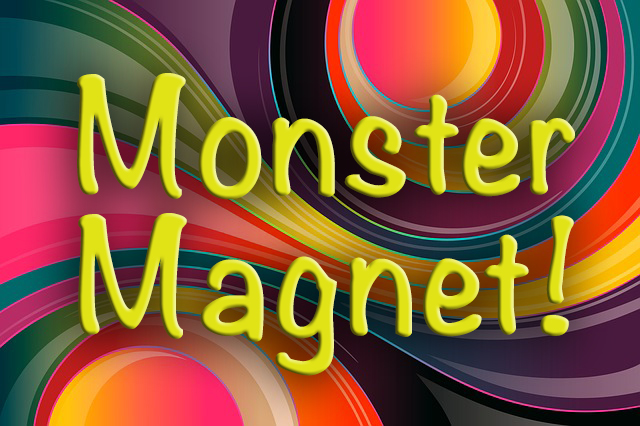 Explore the mesmerizing topic of Magnetism. Includes a favorite set of hands-on experiments tested over many years in ScienceWiz® after school programs and camps –– now combined with a compelling virtual experience.
The camp begins with the basics, including the making, navigating and treasure hunting with compasses. Can you use a compass to navigate on the Moon or on Mars? What does that tell you about the constraints imposed on dreams for terraforming Mars? Think again Elon!
Participants will explore the weird effects of eddy currents on falling magnets. Neodymium magnets will be supplied to parents for these experiments. These are SERIOUS magnets. They have safety requirement that parents must provide!
The camp concludes with magnetic "car" racing. Campers build their initial designs. The goal is to perfect and tune these cars to improve their speed. Elaborate tracks can be designed and built as well.
A beautiful, full-color companion book helps guide campers through hands-on projects that teach key must-know science concepts for magnetism.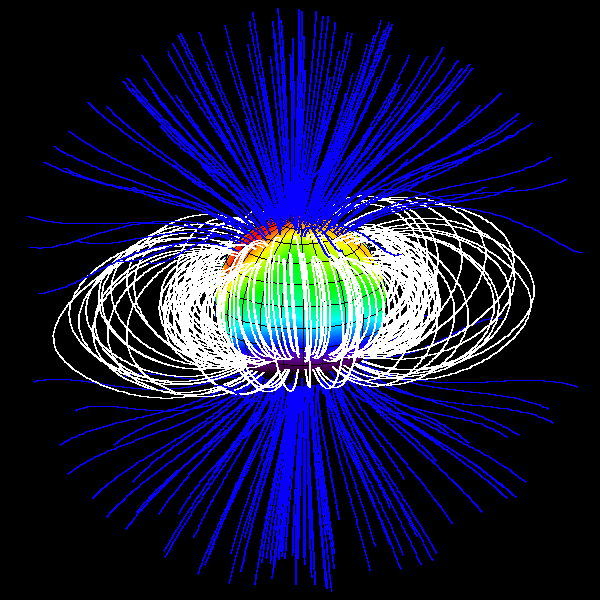 MAGNETISM – ONE WEEK LONG SESSION
Monday: Magnetism basics.
Tuesday: Make compasses, from the simplest to more elaborate. Navigate and solve puzzles with compasses. Let the treasure hunt begin!
Wednesday: Explore electromagnetism. Go on to mysterious eddy current experiments.
Thursday: Build your first magnetic racer with neodymium magnets. Make your first copper coil tracks.
Friday: Increase the speed of your racer. Let the races begin! Modify and elaborate on your tracks.
This immersive camp is packed with exciting events, because of the nature of magnetism. It is SO peculiar. The camp includes hands-on projects, interactive simulations, games, mesmerizing magnetic phenomena and memorable online experiences. Through the live Zoom sessions, campers share ideas, brainstorm together, build confidence and expand their horizons.
---
WHAT YOU WILL NEED
MATERIALS (Your welcoming email following enrollment has a detailed list of materials.)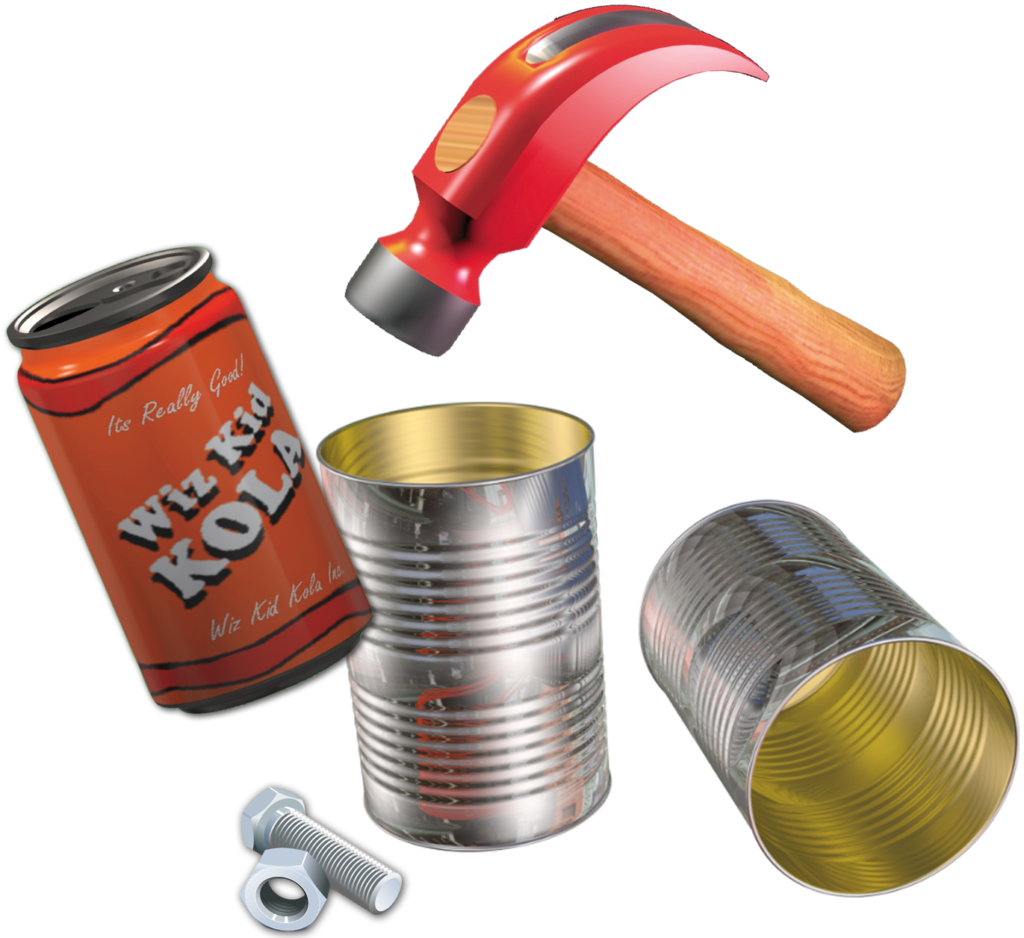 1.5 V alkaline battery (can be AA, AAA, C or D-cell)
( the D-cell is recommended — it lasts longer)
1.5 V AAA (new) and AA (new or used)
translucent small plastic objects (to vary the kaleidoscope)
metal objects and coins
cans (from the kitchen –– used or unopened)
metal kitchen utensils
scissors
1 paper plate or piece of cardboard
metal utensils
water, a few tablespoons of milk, large clear bowl or glass container
scrap paper
hammer
plastic bag
small cup or bowl
ruler
roll of aluminum foil
TECHNOLOGY
Desktop, laptop or tablet: must include a speaker and a camera.
Internet access
Zoom application installed

Signed in with your child's name
Unmuted (the instructor will manage class muting/unmuting)
---
WHAT WILL BE EXPLORED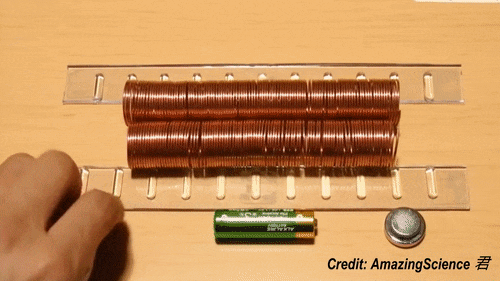 The fundamental principles of magnetism
How to make a compass and how to use it to navigate
Electromagnets, on and off, and flipping poles
Lines of force and action at a distance
Mysterious eddy currents
How to race forward at high-speed using only magnets and coils, no wheels or motors required!
Art with ferromagnetic fluids
Mag-lev trains –– the fastest in the world
The history of magnetism from magnetite to planetary force fields to sun spots
---
AWARDS FOR THE BEST SELLER: SCIENCEWIZ® MAGNETISM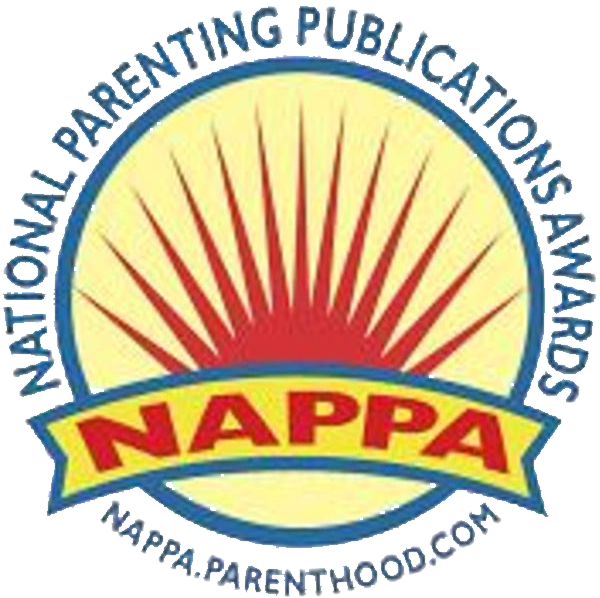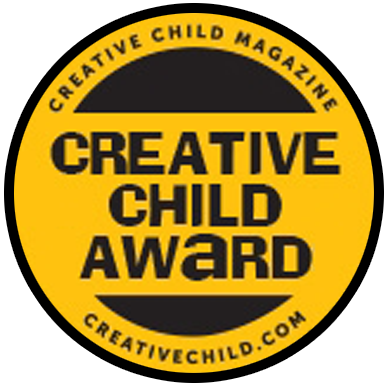 ---
5 STAR RATED BY REVIEWERS ON AMAZON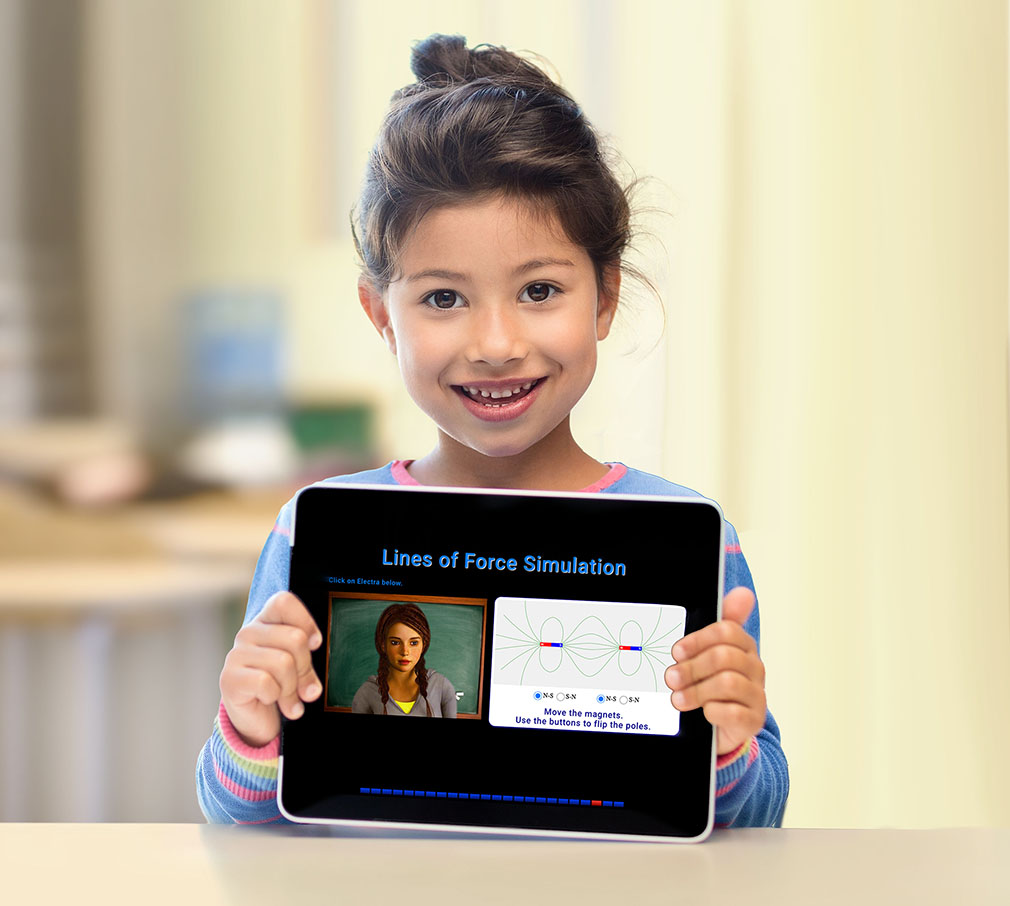 "The one and only brand experiment kit I buy now!"
Reviewed in the United States on January 5, 2017
— Verified Purchaser

"These kits are the only experiment kits I buy now. Included is everything needed to cover all aspects of a subject. The front flap is a book packed full of 22 different activities. All short and to the point. Colorful pictures. Occasionally you may need a household item such as a battery, nail, or other household objects easily found in any home for this kit. My children pull out this magnet kit weekly. They love redoing all the experiments!"
— Mother, Amazon Purchase, West Virginia
---